MUSSELS SOUP WITH NOODLES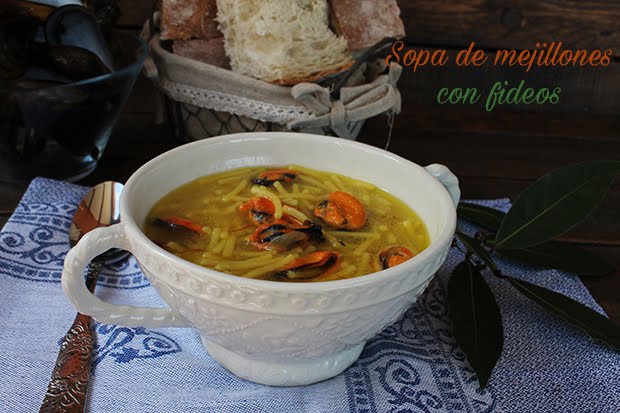 INGREDIENTS:
2 cloves of garlic
50 gr of onion
2 sprigs of fresh parsley
30 gr of virgin olive oil
500 gr of cooked mussels, half shells with their juice
1,000 gr of fish broth
30 gr of anise liqueur
1 bay leaf
1 pinch of saffron threads
1 pinch of ground cayenne pepper
2 pinches of salt
200 gr of noodles
PREPARATION:
I use live mussels and besides rock, they were small, but with a lot of flavor.
We wash and remove the whiskers from the mussels. We place them in a pot with a small shot of water and place them on medium low heat until they open, stirring occasionally and discarding those that do not open. We remove the mussels to a plate and we strain the juices through a fine mesh sieve. We remove the mussels from the shells and discard these.
Put the cloves of garlic, onion, parsley and oil in the glass. We chop 4 seconds, speed 5.
Then we fry 3 minutes, varoma, speed 1.
We add the fish stock (my own home), the anise liqueur, the laurel, the saffron, the cayenne, the salt and the broth of the mussels.
We program 12 minutes, 100º, speed 1. We incorporate the noodles and program 6 minutes, 100º, speed 1. We add the bodies of the mussels. Let sit a few minutes and serve in a tureen.