SOUP OF NOODLES WITH CLAMS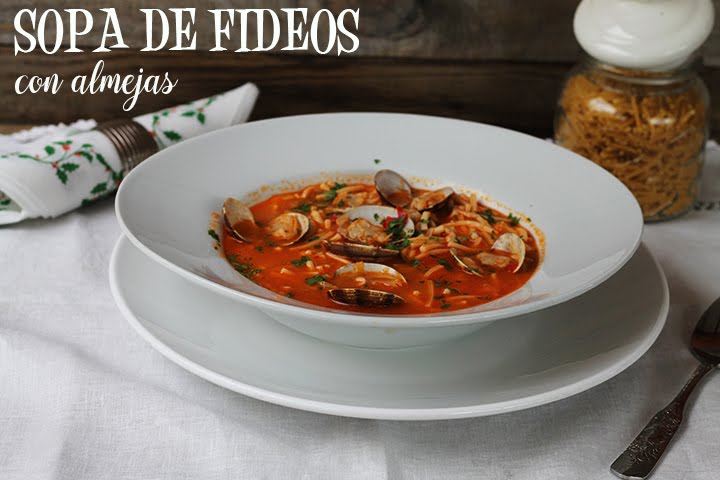 This dish is between a soup and a stew. I'm left with soup because it's very smooth. How rich this soup, between the homemade fish soup and the cooking liquid is to suck your fingers. A spoonful dish "as my grandmother would say" with all the commandments.
INGREDIENTS:
400 g of clams
1 leek
2 cloves of garlic
150 g of noodles thick
1 carrot
1 spring onion
1 green pepper
2 tablespoons tomato sauce
750 ml of fish stock (best homemade)
100 ml of white wine
Olive oil
Salt
Parsley
PREPARATION:
Let the clams soak in plenty of salt water for 1 hour. Rinse, drain and cook in a casserole with the wine, 3 minutes until they open. Reserve some clams with its shell and remove the others. Strain the cooking liquid and reserve it. Peel the garlic and chop it.
Clean the leek, the Chive, pepper and scrape the carrot; Wash the four vegetables, dry them with kitchen paper and cut them into pieces. heat a thread of oil in a casserole, add the garlic and the rest of the prepared vegetables and sauté for about 10 minutes.
Add the tomato sauce, stir and pour the fish broth and the cooking liquid from the clams. Leave to cook for 5 minutes, season and grind. Add the noodles to the broth obtained, stir and cook the pasta al dente. Add the clams, sprinkle with washed and finely chopped parsley, and serve immediately.